Cafe Chat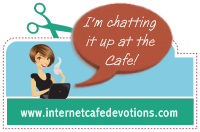 Update: 11-7... Today my mom is stable :)
Hello Cafe

Community

. I hope that today finds you enjoying the presence of the Lord. Today I am going to depart from my normal routine, which is me ask you a question, and you all blow me away with your answers :) Today will be a day that we can show brotherly or sisterly love and encouragement to each other.
Today my mother is having a very risky surgery. My mother has been through so much in the last decade of her life, and especially in the last 3 years. She had quadruple by-pass surgery a year ago, and then had a vascular surgery a few months after that. About a month ago it was decided that my mother would have to undergo another surgery. I am not going to take up a lot of time here today to go into all the details, but this surgery is very risky because of her current health status.
Over the last year, I have sent emails, posted information on my blog, and even sent out the information via

Facebook

to ask for prayers from the body of Christ for my mother. Can I say that when the body( meaning Christians) is operating under Christ's headship it is a beautiful thing. My family and especially my mother have been blown away by the many people that have offered up prayers on her behalf. Even people that do not know my mother have labored in prayer for her. We are overwhelmed.
Today, ultimately we know that my mother's life is held in God's hands and He will carry her through every step that is to come. May I ask you to pray for my mother today? Her name is Donna Powers. Any prayers you offer are coveted.
However, I want to finish today's post, by asking you to leave a prayer request in the comment section of today's post. How can we pray for you? It doesn't have to be a big request, any will do. My plans are to come back later and try to pray for all the requests left today. As so many have prayed for my family, it is a very small way to say thanks.
Also, can I challenge you to look at the requests today, and even if you don't get to pray for them all, would you pray for at least one person's request? Then stop by her/his website to let him/her know that you prayed for them. This is one way we can unite as sisters and brothers in Christ.
Be Blessed Today!!!
Labels: Cafe Chat, Kim's Articles