Cafe Chat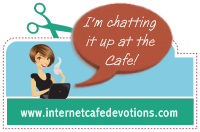 You all don't know it, but about 90% of the inspiration for my questions come directly from my life circumstances. Well, this week falls into the 90% :) I was able to attend a Women's Conference this past weekend at a Church, and Liz Curtis Higgs was the speaker. Liz is so darling, and she is a witty, funny, fun loving woman of God.
This weekend Liz talked about a few women from the Bible; Sarah, Hagar, and Leah. I want us to focus in on Leah this week. Actually, Leah and Rachel. I won't assume that everyone reading is familiar with the story of Leah and Rachel, and Jacob of course. So below I will post a portion of scripture from Genesis 29. Please read before you answer the questions, and I would encourage you to read even more of the story than I posted.

(From Genesis 29)

After Jacob had stayed with him for a whole month, 15 Laban said to him, "Just because you are a relative of mine, should you work for me for nothing? Tell me what your wages should be."
16 Now Laban had two daughters; the name of the older was Leah, and the name of the younger was Rachel. 17 Leah had weak eyes, but Rachel was lovely in form, and beautiful. 18 Jacob was in love with Rachel and said, "I'll work for you seven years in return for your younger daughter Rachel."

19 Laban said, "It's better that I give her to you than to some other man. Stay here with me." 20 So Jacob served seven years to get Rachel, but they seemed like only a few days to him because of his love for her.

21 Then Jacob said to Laban, "Give me my wife. My time is completed, and I want to lie with her."

22 So Laban brought together all the people of the place and gave a feast. 23 But when evening came, he took his daughter Leah and gave her to Jacob, and Jacob lay with her. 24 And Laban gave his servant girl Zilpah to his daughter as her maidservant.

25 When morning came, there was Leah! So Jacob said to Laban, "What is this you have done to me? I served you for Rachel, didn't I? Why have you deceived me?"

26 Laban replied, "It is not our custom here to give the younger daughter in marriage before the older one. 27 Finish this daughter's bridal week; then we will give you the younger one also, in return for another seven years of work."

28 And Jacob did so. He finished the week with Leah, and then Laban gave him his daughter Rachel to be his wife. 29 Laban gave his servant girl Bilhah to his daughter Rachel as her maidservant. 30 Jacob lay with Rachel also, and he loved Rachel more than Leah. And he worked for Laban another seven years.

31 When the LORD saw that Leah was not loved, he opened her womb, but Rachel was barren. 32 Leah became pregnant and gave birth to a son. She named him Reuben, for she said, "It is because the LORD has seen my misery. Surely my husband will love me now."
33 She conceived again, and when she gave birth to a son she said, "Because the LORD heard that I am not loved, he gave me this one too." So she named him Simeon.
34 Again she conceived, and when she gave birth to a son she said, "Now at last my husband will become attached to me, because I have borne him three sons." So he was named Levi.
35 She conceived again, and when she gave birth to a son she said, "This time I will praise the LORD." So she named him Judah. Then she stopped having children.
So after reading part of the story (again, I encourage you to read more) who do you sympathize with more, Leah or Rachel? Who does your heart go out to? Does your answer reflect the fact that you can relate to your choice personally? Share if you feel so led.
I again look forward to seeing your answers. If you are new to the "Cafe Chat" please join in :)
Kim (I encourage you to use the MckLinky feature today)
Labels: Cafe Chat, Kim's Articles