Cafe Chat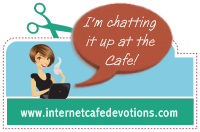 Dishes, laundry, dusting, making beds, cleaning the bathroom...
I am sure that these words evoke some emotion in all of us, for me these are NOT a few of my favorite things..
Nonetheless, these are all things that need to be done, and for the most part on a daily basis.
There is a verse in 1 Corinthians (10:31) that reads "So, whether you eat or drink, or whatever you do, do all to the glory of God." I have an

ESV

study bible, and the study note for that verse reads, "Every aspect of every Christian's life has the potential to honor God." So I think our tasks above could be included as things we can do to bring honor to God.
So today, I ask you how can we bring glory to God in the midst of the repetitive everyday tasks that we have to do? Give examples
Don't be surprised if you hear about me putting into practice some of the answers you all share :)
Blessings, Kim
Labels: Cafe Chat, Kim's Articles