Cafe Chat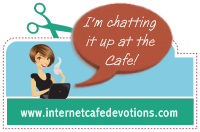 Hello All!!! I will be using the MckLinky feature today, but I wanted to give a quick recap first of how to use the MckLinky if you are not familiar with this feature.
There are two ways to participate in the Cafe Chat weekly. The first way is to leave a comment and/or your answer to the Cafe Chat question directly on the Cafe Chat post. The second way you can participate is to actually answer the Cafe Chat question on your blog or website, and then leave a link back to your blog/website letting us know that you answered the question at your own site. This is where the MckLinky is going to become an awesome tool to help us connect with each other.
If you answer the question to the Cafe Chat at your blog/website, just make sure to leave your site address on the MckLinky feature. It is very easy, I promise :). If you have problems, just leave me a comment at my personal blog or directly on this Cafe Chat post.
OK, thanks for bearing with me while I explained a little about the McLinky. So let's get to today's question.
____________________________________________________________________
During the past decade I have heard it said many times that our mind is like a tape recorder. Our mind continually plays messages over and over again. Some of those messages are good, and some are bad. Some messages are truth, and then others are lies. If you are like me I don't think my tape recorder has a stop button, as my mind is continually playing some kind of message.
So today, I ask you what is one message that your "tape recorder" (mind) is playing over and over in your head that is a lie?
God's Word is the only thing that has the power to change our minds. His truth is the only way to erase a lie.
So for the second part of the question I am asking that you find a scripture from the Bible that gives you truth over your lie. List the scripture for us.
Then I want to challenge you to keep telling yourself God's truth about the lie you are believing. Let God erase that lie from your mind once and for all.

Blessings to all!!!
Labels: Cafe Chat, Kim's Articles