Cafe Chat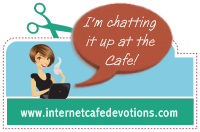 Hello
"Cafe Chatters"!!!
Did you decide if you like that name yet? I feel like I am getting to know you all a little bit better
every time
I read your answers to my weekly questions. We have a wonderful little community here.
Today is going to be a little bit different. Today's questions and answers will serve to help me with coming up with future questions for the
Cafe Chat
meme. I am also working on getting the
McLinky
tool set up here which will make our back and forth communication with each other so much easier. Once the
McLinky
is up, you will be able to easily visit those that participate in this weekly meme.
(Update...it looks like the McLinky is ready to use...please take advantage of this
great feature)

What kind of questions would you like to see me ask weekly at the Internet Cafe? Even more general, what kind of topics would you like for me to address weekly (prayer, relationship, sin, etc)? If you have a specific question in mind, go ahead and let me know that as well.
I will try to incorporate your answers in future Cafe Chats.
I can't wait to get your input. You all are a big part of this community, and without you I would just be asking questions that never get answered.
Blessings, Kim
Labels: Cafe Chat, Kim's Articles