Cafe Chat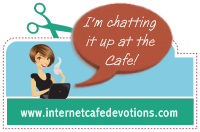 (UPDATE FROM KIM...Please make sure to read the comments on this post...they are precious)
Well, I would love to say that I came up with today's question because it is a good one, but I found it in a book I am currently reading. I thought the question was too good not to ask it to one of my favorite online communities.
The question comes from the book,
"Did You Think To Pray?"
by R. T. Kendall. A verse from Exodus 33 had Kendall really pondering about the situation Moses was in. (Feel free to read Exodus 33, and/or you could purchase Kendall's book to read more about the story if you would like). The question Kendall came up with is very thought provoking, and he asked the question to his friends as well. So today, I ask you a similar question (I changed it slightly).
If God told you that He would answer any one prayer request today, what would it be? Why, this request?

(Again, I give all credit to R.T. Kendall for today's question)
I can't wait to read your responses.
Blessings,
Kim
Labels: Cafe Chat, Kim's Articles