Cafe Chat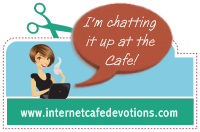 Hello Cafe Chatters!!!
I wanted to do a video blog post today, but time slipped through my fingers, so I will try again next week. I will get right to today's questions, and I think the questions are easy to answer.
What is your favorite book in the Bible? Why is it your favorite? (Give specific details :)
See I told you the questions were easy, and I can't wait to read your answers.
Blessings, Kim
Labels: Cafe Chat, Kim's Articles