Cafe Chat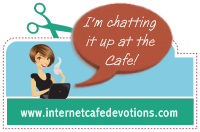 I will get right to the question today, and save my thoughts for my blog where I will answer the question.
Is there a situation in your life that you feel ill equipped to handle? If yes, would you be willing to surrender this situation to God, and let Him work through you? If no, why not?
I asked this question this week, because I have a situation that I definitely feel ill equipped for... But as I started to feel this way, I realized that God is fully capable of equipping me to do the work He has purposed in my life. Now that is encouraging!
Blessings, Kim
Labels: Cafe Chat, Kim's Articles