Cafe Chat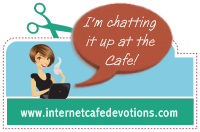 Jealousy...
I know, not a great choice of a word to start out our discussion today, but I think it is a good topic for a "Cafe Chat" question. One definition from
Dictionary.com
states that jealousy is
"jealous resentment against a rival, a person enjoying success or advantage, etc., or against

another's

success or advantage itself."
For today I think this will be the definition that we use to answer our question.
Jealousy is a sin that all people struggle with from time to time in their lifetime. Some will struggle greatly, and for some it can be something they might deal with in specific situations. In my past, I would categorize myself in the "struggle greatly" category, but now with the Lord's changing power I struggle with jealousy less often.
Today I would like for you to tell about a time that you dealt with the sin of jealousy. If you can, give details. Then I would like for you to share how you worked through the situation with God's help.
If you are struggling with jealousy ruling in your life, then I would like for you to write some reasons why you think that is. Would you be willing today to ask God to begin the process of destroying this sin in your life?
Again, always feel free to post anonymously. I will make sure to post my answer this week at my blog. If I ask you the hard questions, I have to ask them to myself. I hope this week's question will encourage all of us to seek God when it comes to the sin of jealousy, and any other sin :)
Blessings, Kim
Labels: Cafe Chat