Cafe Chat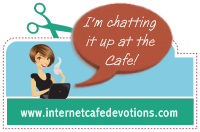 Welcome to the Cafe Chat meme! Our interactive meme for our "Internet Cafe" community. My name is Kim

Uden

and I am the weekly host of the "Cafe Chat". Amy

Bayliss

and I decided to move the "Cafe Chat" to Thursdays instead of our regular Saturday time slot. I know that we have over one thousand regular subscribers to this site, and I am hoping for more of our community here to join the regular participators of the "Chat". Participating in this meme will be one way we can get to know each other a bit better, and as always I hope the questions posed weekly will challenge you in your walk with Christ.
(Reminder... We no longer use Mr.

Linky

, so please make sure to leave your answers to the questions in the comment section of this post. Also feel free to post your answers to the questions at your personal blog site, and then leave a comment on this post directing us to your answers. Don't forget to visit each other)
John 20:17 (

NIV

)
Jesus said, "Do not hold on to me, for I have not yet returned to the Father. Go instead to my brothers and tell them, 'I am returning to my Father and your Father, to my God and your God.' "
I love the scene in the Bible where Mary Magdalene meets Jesus after He has risen from the tomb and death. What happened in real life with Jesus that day is a moment I am sure stayed with Mary until her dying breath. Can you imagine? (If you don't know the story, please read it in John)
I also love what Jesus tells Mary after He revealed Himself to her. Take a moment to reread the verse above in John. What sticks out to you? For today's question I am going to focus in on the last part of John 20:17. Jesus tells Mary that He is returning to His Father, but then he adds the words "your Father". What Jesus accomplished through his life, death and resurrection enabled us, humans created by God, to now be able to call God our Father. AMAZING (and that is an understatement).
So today, I ask you what does it mean that you are able to call God your Father? Really think about this one, and then just let your words flow from your heart...
Blessings and I hope to see my old "Cafe Chatters" participate today, and gain some new ones :)
Labels: Cafe Chat, Kim's Articles