Cafe Chat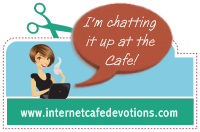 Christmas is right around the corner. Are you ready? I think I am :)
I hope that you got a chance to read last week's Chat. I asked you to come up with a gift that you wanted to give to Jesus for Christmas (read

last

Thursday's Chat for more information).
I think I have mine, but I want to give it a little more thought before I make my final decision. Anyhow, let's stick with the gift theme for today's question.
What is the best gift you have ever received at Christmas time? Please tell the reason why it was the best gift.
I encourage those of you that have never participated on a Cafe Chat day to try it out today.
Blessings,
Kim
Labels: Cafe Chat, Kim's Articles