Cafe Chat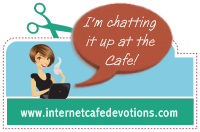 I hope today's "Chat" finds you enjoying the presence of Jesus. In my own life I tend to think of Him a lot during Christmas time? Anyone else?
If you have been reading the "Cafe Chat" for any period of time, you know that my questions are normally inspired by the things I hear, see or experience in my everyday life. Even though I have heard about the idea of giving Jesus a present at Christmas from several people, today's credit for my question will go to

Lysa

Terkeurst

(Proverbs 31 Ministries). I recently led a group of friends through

Lysa's

new book, "Becoming More Than A Good Bible Study Girl". I will quickly say

Lysa's

book is wonderful, and I highly recommend it.
About two weeks ago I heard

Lysa

talk about how her family made a

commitment

one Christmas that they would give Jesus a present everyday of the next year. What a goal.
She said that for the next 365 days, they would either give their time, money or encouragement to someone. This gift could be to someone they knew or to a stranger. One of their goals was to look back and know that for a whole year someone would have been touched in some way by the love of Jesus (I abbreviated the story, and may have left out some information, but the main idea is there).
I love this idea, and today's question is actually a challenge to you. What is one gift you can give to Jesus in the coming year?
Think a bit deeper and challenge yourself. Try to make sure the gift is centered on Jesus.
Blessings sweet friends,
Kim
Labels: Cafe Chat, Kim's Articles