Cafe Chat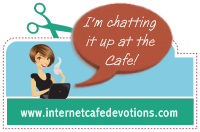 This month I am going to try to focus the "Cafe Chat" questions toward the theme of Christmas. I am sure I will not have a hard time coming up with questions as I just love Christmas time, and as I grow in my relationship with Jesus, Christmas becomes even more special to me.
Today's question is going to be straight forward and simple.
What is your favorite Christmas memory? If you can't pick a favorite, share one of your top memories.
Blessings All...
Kim
Labels: Cafe Chat, Kim's Articles