Cafe Chat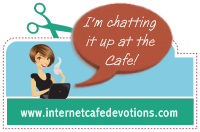 Hey my dear "Cafe" friends. Thank you for the continual encouragement that you give me and this community weekly.
Next Thursday is Thanksgiving (I am sure you already knew that though), and I won't be posting a "Cafe Chat" question on that day. I hope you will be enjoying Thanksgiving Day with the Lord, your family and friends. But, I could not let the opportunity go to ask you what you are thankful for this Thanksgiving.
Please list up to 5 things that you are thankful for... I encourage you to think a little deeper and come up with something that you are thankful for that you might not have thought of before.
Blessings and Happy Thanksgiving...
Kim
Labels: Cafe Chat, Kim's Articles