Cafe Chat (Can today be the day?)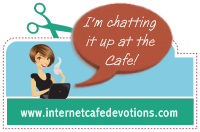 First, I want to say thanks so much for all the prayers that you all prayed for my mother last week. My mother is still recovering in the hospital, but we are hopeful that soon she will be able to come home. (I am posting updates on my regular blog if you want to know the latest information).
I was so encouraged last week by how many people responded to my request for prayer, and at the same time my heart went out to those that left prayer requests of their own. So, my new plan is that at least once a month, I will open up the "Chat" for prayer requests. I think praying for one another will be one way that we can draw closer to one another, and Jesus. Thank you all for showing me this last week!!!
With all that being said, let's "Chat".
As you might have noticed already the title of the Chat today is, "Can today be the day?". The Lord has really been working in my heart over the last several months. I feel like He has been dealing with me in the area of letting things go. Sometimes the things are

outright

sins. Sins that have had me in their grip for a long time. Sins I have been wrestling with for what feels like my whole life.
On the other hand, there are things in my life, things that I neccessarily consider sins. Some of the things are good things, or at least that is how the world might define them. However, these good things have become idols in my life. Things that I find myself not able to do in moderation, if you know what I mean.
I am speaking today in general terms, because I don't want you to get focused in on any particular sin, and I don't also want you to feel like I am singling out things in my life that I think you all should give up as well. What I am asking you to do is to pray to God and see if there is something He wants you to give up. Not give up eventually, or one day in the future, but TODAY.
Can today be the day you begin your journey to freedom from what binds you?
Begin your journey with prayer, and then seek God in His Word. Ask Him to give you the desire to change, and the strength to do the hard work that is required. Seek out friends and loved ones that will support you on your journey to freedom.
Jesus came to set us free... Let's seek freedom together.
(Today, if you feel led please share with us what thing you are asking God to set you free from, or at least that you decided today is the day to change...)
Cheering you on,
Kim
Labels: Cafe Chat, Kim's Articles