Cafe Chat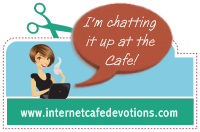 To do or not to do...that is the question
Do you ever find yourself measuring how good you are doing in your relationship with God by the things you do, or the things you don't do? In the last couple of weeks, I have found myself looking at the things I am NOT doing, or shall I say some things I have given up (or tried to) because they were not things that were drawing me to Jesus, or helping me in my relationship with Him.
For me, I think I am discovering that if I look at my "DO NOT" list, it is pushes me a bit toward legalism, and causes me to focus in on my works more than I should. So today I want to see where my sisters in Christ stand on the "to do or not to do" dilemma.
Do you focus in more on what you are doing for Jesus, or on what you are not doing for Him? Is there a balance? Do you think this is even a

healthy

approach when you are examining yourself in regards to your relationship with Christ?
I am looking forward to seeing your answers this week.
Blessings, Kim
Labels: Cafe Chat, Kim's Articles