Cafe Chat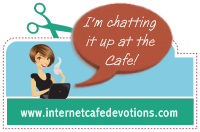 (For the next few weeks, I will be

republishing

some of my previous "Cafe Chats".
Remember to leave your answers in the comment section of this post, or post your answers at your website with a link.)


Romans 12:1-2
1
Therefore, I urge you, brothers, in view of God's mercy, to offer your bodies as living sacrifices, holy and pleasing to God—this is your spiritual act of worship.
2
Do not conform any longer to the pattern of this world, but be transformed by the renewing of your mind. Then you will be able to test and approve what God's will is—his good, pleasing and perfect will.
The verses above are some of my favorite verses, and honestly I think we could answer questions on these verses for weeks.
Over the past 5 years I have felt like the Lord has really opened my eyes to the many ways I conform to the world.
I am so thankful that the Lord has done this for me because without His light on my "sin" I would probably not have made changes in my life.
I still have changes to make and I will do that by "renewing my mind" with God's Word. God will work through me to make the changes I need to make, I know I can't do it on my own.
So today, I ask you once again to examine your own lives and see what the Lord maybe saying to you.
In what ways have you "conformed to this world" in your own life?

Then, share the story of how God worked through you to "renew your mind" in that situation.




Blessings, Kim

Labels: Cafe Chat, Kim's Articles