Cafe Chat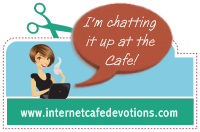 For the next couple of months, I will be
re posting
some of my previous "Cafe Chats". Currently, I am in a very busy season of my life (Moving,
VBS
, and Vacation). So I think it in your best interest that I
re post
some of my old questions, as I am not sure my brain will be able to function and come up with a question you can understand :)
Until recently there were not many people participating in the Cafe Chat meme, so it is likely that many of you will not have answered these questions. If for some reason you did answer the questions I post in the next couple of months, please
re post
your answers as it is such a great way to create community here at the Cafe.
(Reminder...Please leave your answers in the comment section of this post, or direct us to your site where you will have answered the questions. Remember to try and visit all the people that post answers today, and if you can, leave them a comment.)

QUESTION

When it comes to an issue or truth that you believe in, maybe even feel like God revealed that truth to you; how do you respond to another Christian that might have the opposite view from you? Do you feel like the way you respond lines up with how God would want you to respond?
Blessings to all!!!
Kim
Labels: Cafe Chat, Kim's Articles