Cafe Chat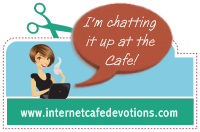 Hello Sweet Sisters (and any brothers that may stop by)! This will be my last "Cafe Chat" for awhile. I have an opportunity to serve some wonderful young ladies in the upcoming year, and I want to make sure I give my full devotion to them. I will sorely miss doing the "Cafe Chat" meme, but I will still be able to participate here at the Cafe by posting a devotion from time to time.



So today is the last day of 2009... I wonder what kind of year 2009 has been for all of you. As we close this year, I want to ask you a question. I am sure that doesn't surprise you, since that is what this meme is all about :)



Is there something (or more than one thing) that you felt Jesus wanted you to do in 2009 that you did not do? What was it? Why didn't you do it? Will you tackle it in 2010?



God willing, I want 2010 to be a year of action for me when it comes to the things that the Lord has in store for me. I hope the same for all of you too.
Blessings my friends, and please visit me at my personal blog site as I will miss the weekly check in with all of you. See you around the Cafe...


In Christ,


Kim
Labels: Cafe Chat, Kim's Articles