Resurrection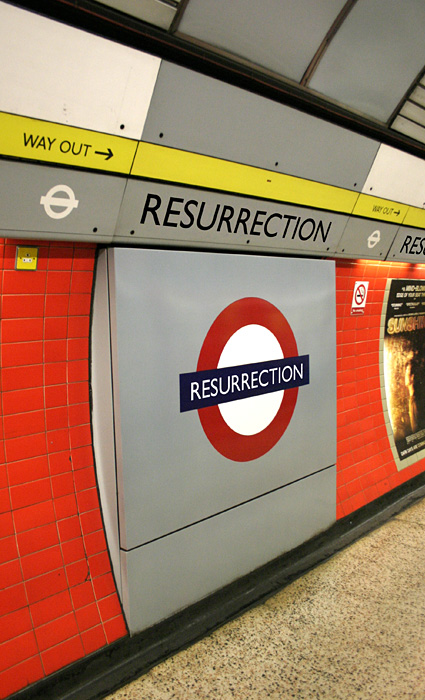 I don't know how often "the resurrection" figures in your daily life. It's a question I once posed to some guests that we asked over for dinner, and my husband gave me quite a quirky, "Would you knock off the seminarian-speak?" kind of look when I asked them:
What difference does Christ's resurrection and the belief that those of us in Christ will be raised from the dead make in your daily life?


And please pass the rolls.
Truth be told, it doesn't figure all that much for me. I just don't think about it all that often. Certainly, we celebrate Christ's rising from the dead on Easter. But compared to a holiday like Christmas, Easter can feel very second-fiddle. I'm not about to blame the commercialization of Christmas for it, but it's a really sad reality that Christians often permit Easter to be such a second-class Christian feast.
But it's really understandable why it happens. By the time you've hidden the Easter eggs for your kids, and polished off some spare candy that you kept in reserve, and finished the touches on your Easter ham for your Easter feast, it's really easy to lose sight of the shocking proposal that we as Christians affirm as believing about our Lord:
He died. And then
he rose from the dead
.
Not just that, but those of us who are in Christ will also be raised from the dead (
1 Cor. 15:20-22
).
This is terribly relevant stuff. I mean, we're talking life and death. Then why is it that I can wander through any given week and give very little thought to this earth-shaking truth about my Lord? And about me? I guess it's because it just doesn't seem to have anything to do with my doing the dishes, or getting dinner ready, or making sure the laundry's folded.
Honestly, this isn't going to be a devotional post that gives you an answer to the question I proposed above. I don't have one. And I don't dare propose one for you, my gentle reader, just to make this post feel tidy. I'd just suggest that we spent some time preparing our hearts to celebrate Easter, and meditate on Christ's resurrection this week. And meditate on the hope that we have that those of us in Christ will be raised too.
As the church around the world observes this season of
Lent
, it does so with a growing longing for this Easter hope, for the time of lilies and
alleluias
, and for the declaration that death is not the final word. That death does not win. Jesus does.
Dig Deeper:
I would love to hear your reflections about the resurrection in your daily life. What does it mean to you? To help guide your thoughts, I'd recommend reading the entire chapter of
1 Corinthians 15
. Ask the Holy Spirit to press upon you the relevancy of resurrection to our Christian life. (This chapter is not the easiest reading. Don't focus on making sense of it all entirely. Trust that God will reveal what he wants you to dwell upon for Christian faith and life.) Please share your thoughts in the comments about what you hear God say to you in this reading.
PS.
On all of my posts, I've made it my policy to link any Scripture references to the text online. The translations will vary, but you can always change them once you get to the text. So, to make engaging with the Bible really easy, just click on the reference.
Labels: He is "I Am", Laura's articles