Cafe Chat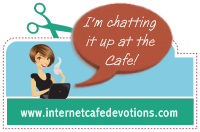 Philippians 4:6 Do not be anxious about anything, but in everything, by prayer and petition, with thanksgiving, present your requests to God.
Do not be anxious about anything… Oh that is a hard one for me, as I am prone in the flesh to worry and be anxious all the time if I don't let God intervene. However, as we can see in Philippians that we are not to be anxious about "anything", but in "everything" with thanksgiving we can pray to God, and present our requests to Him.
I know if I asked a question about what we pray to God about that we would easily be able to come up with our lists. However, looking at the verse in Philippians, I wonder what we don't pray about. I know that in my own life I do not pray about "everything", and that fact inspired today's question.
God's Word tells us that we can pray about "everything"; however what are some things in your life that you do not pray to God about? (You can tell about a specific situation, or give a general answer). Why don't you pray to God about what you named above?
Blessings,Kim
Labels: Cafe Chat, Kim's Articles