God's Poster Child
"...for I have redeemed you;
I have called you by name;
you are Mine."


Isaiah 43:1b
I recently had to call someone and apologize. While we were at an event, our tongues got a little loose while we chatted—especially mine. Free-flying words turned to gossip. After I left, I felt sick to my stomach. I emailed an apology as soon as I got home.
Her response caught me off guard. She said, "It's okay, Laura. Actually it's kind of nice to know you make mistakes too. You're like the super Christian, super Mom and everything. It kinda makes me feel better to know you're human."
Okay, WoWzer. How can this woman not know that I'm a mess?!?  Super Christian?…
not!
  Super Mom?…be a fly on the wall of my home, and you will strip the big red letter "S" off my chest in a hurry. For whatever reason, she had the impression that I was "put together."
For years, I tried to be. And I know many women that are struggling to do the same thing. We want to be it all, don't we? Think about it…
We wanna be…
*Confident, fashionable and fit.
*Incredible moms who never have to raise our voices.
*Women who can cook and clean, whistlin' while we're doin' it.
*Scheduled, structured and in-control.
*Available. I can drop everything to help a friend in need.
*Double available. They need my help at church.
*Wise and discerning…able to counsel others.
*The super duper perfect wife.
On and on
—and all of these are further complicated by what we think others expect us to be. The harder we try, the harder we fail. And if we're not careful, we'll end up just like the rest of the world—helpless, hopeless, desperate and dependent.
If you're already set free from this way of living, that is awesome. Celebrate by helping me share this good news with the rest. Ready?
You—precious believing sister in Jesus Christ—

YOU

—are God's poster child. Not the kind that shouts out, 

"Look at me—I'm something!"

But one that shows others what God has done in and through You as you've thrown your hands in the air, surrendering to His awesome ability.

"Lookie at what God did. He saved me for His name's sake, to make His mighty power known!"

(Psalm 106:8)
Over the years, I have learned how deeply and perfectly God loves this daughter of His. But it's not because of anything I've done; it's because of who
He
is in me. I don't have it together. Just as Paul said,
"I do not consider myself yet to have taken hold of it."
It is when my heart stays in a constant stance of prayer that the fruit of the Holy Spirit spills out and behaves like a loved daughter of the King through me.
The same is true of you, sister in Christ.
He lavished His love on you and called You His child.
And that is what you are! (from 1 John 3:1)
Nothing you do or don't do will cause Him to love you more or less. You may have those days where you feel like the least qualified person on the planet to hold the title of Christian, Woman, Wife, Mother, Sister, Daughter, Friend. But because He holds the title of
Sovereign Lord and Master of the Universe
, He will help you to accomplish what He's asked you to do, as you willingly hand all titles over to Him.
"The One who calls you is faithful, and

HE

will do it." 
1 Thessalonians 5:23, NIV (emphasis mine)
So what's your story? Do you think you're too much of a mess to make a difference for God in this world? Do you look around at other Christians and think you'll never be as good as they are? Do you listen to a message, only to hear condemnation instead of hope?
(see Romans 8:1)
.
The Lord wants to set the record straight. He wants you
"to grasp how wide and long and high and deep"
His love is for you, confident that He will fill you
"to the measure of all the fullness of God."
  Not so we can have a grand title for ourselves, but so that He can receive the glory and honor that belong to Him.
"And we, who with unveiled faces 

all reflect the Lord's glory, 

are being transformed into His likeness 

with ever-increasing glory, 

which comes from the Lord, who is the Spirit."



We are

HIS

poster daughters.
Friends, let's say this out loud together and make it the cry of our hearts, our prayer for today:
"Now to Him who is able to do immeasurably
 more than all we ask or imagine,
according to His power that is at work within us,

to HIM be glory in the church and in Christ Jesus

throughout all generations, for ever and ever! 
In the Key of HE,
Please visit LauraLee at her ministry blog,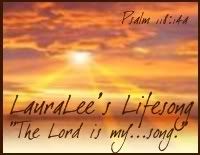 or sign up to receive her edevos at her ministry website:
Labels: He is "I Am", LauraLee Shaw, Love