The Internet Cafe
welcomes
Annie from My Life as Annie!

"I can trust Him!"

Recently I had to take my ten year old daughter, Emelia, to the dentist. As we were driving across town to her appointment I could see her apprehension building. I continued to reassure her as we got closer and closer to the dentist's office. I knew that it would be fine. I knew what she would experience. I thought it through and even spoke some of it to her. I said, "They will take x-rays of your teeth. It won't hurt, but it might be a little uncomfortable." I continued with, "The dentist will look at all your teeth and maybe tap them with his little instrument." I knew there was nothing to worry about, but for her the unknown was terrifying. I remember specifically telling her to "trust" me. I'm her mom!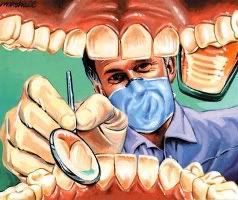 During a moment of silence during our drive I realized that our experience was very similar to some of my own experiences with God. I get apprehensive about the future, wondering what to expect. I have learned through so many experiences that God knows what I am going through and I can trust Him to be there with me, and for me. He brings me through trials and is there in victories. I can trust Him. Proverbs 3:5 says, "Trust in the Lord with all your heart and lean not on your own understanding." When things seem a little bigger than I feel like I can handle I remember that scripture, and that "I can do all things through Christ who gives me strength." Phil 4:13. It makes life a lot easier to know that I have a guide, leading me through this journey. I'm not alone. Neither are you.

Thank you Father for always being there for me. Thank you for being all knowing in all things. I trust you with my life. I rejoice in your goodness and love. Amen.